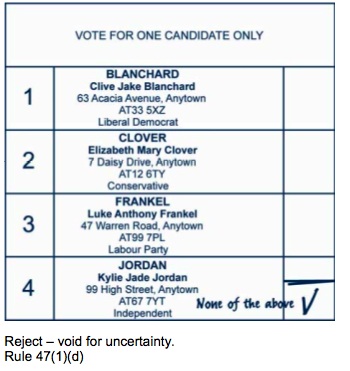 One of the highlights of the Wokingham count was to get the call from the returning officer to come over to the adjudication of the suspect spoiled ballot papers. This was amusing for all because it happened every time a table had finished a batch of ballot papers and the candidates and agents all trotted across the count station floor like lemmings.
An informal committee of agents and candidates is formed, the returning officer holds up each paper one at a time, and a vote is taken to accept or deny each one by one. There were only 2 I can remember that were contested, both by the labour candidate and each of them was a bit pedantic. The officer held firm each time so good for them.
Here is an idea of what the more imaginative voters go up to, paying careful attention not to reveal anything whatsoever about the electors identity here. The Returning Officer has already told me that is the rule to worry about.
Smiley faces
No vote at all (common)
2 votes (common)
Lots of votes
"None of the above" (common)
Change of mind with the mistake so carefully scribbled out it was difficult to adjudicate
Changed vote with the final decision initialled just like a cheque *
"The Zeitgeist", goodness knows what this means though I overheard the MP saying it was probably something to do with Mr Smith!
"This village is not in the constituency" type protest vote
I was quite pleased at the end of the count to find that I had beaten the spoiled count of 91 papers by 5 votes!
* The returning officer went to great pains not to let us read the initials!!! Good for her.